It's a PUPPY!

This is our puppy, Mopsy, the joy of our lives!
She was born on March 22, 2006.
Mopsy came to live with us on August 03, 2006.
She was our 7th wedding anniversary present to one another.

She is part Bichon Frise and part Pomeranian.
Somebody must have forgotten to tell her about her Pomeranian
heritage, because she fits the description of everything that
we've read about Bichon Frise behavior!
She's very playful, energetic and affectionate.
When she wants to play, she will toss one of her toys to us.
Should we happen not to notice it, right away,
she will bark until we toss it back to her!
We plan on adding some better pictures of Mopsy,
once we get the hang of photographing a white dog! ;-) ;-)

Love & Hugs,
Mark & Nancy





This web site is dedicated to the glory of God!





"This is the day the Lord has made.
We will rejoice and be glad in it."
~ PSALM 118:24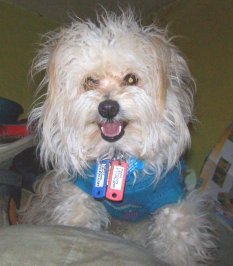 Life With A Bichon

To own a Bichon is to hold
the wind in your hands.
Her spirit keeps moving, like shifting sands.
She dances through life on powderpuff paws,
And brings to one's life such a sense of awe
At the wonder of how such a creature so small
Could hold so much love
And freely share it with all
Who are privileged to be part of her world...
This bundle of joy, clad
in shimmering white curls.
To watch as she plays with her favorite toy,
Is to experience a feeling of boundless joy.
Oh, how it's like to capture a breeze,
When one is privileged to share life
with a Bichon Frise!

By Nancy and Mark Lemmon
Copyright 2006-2008.
All Rights Reserved.







ALL Bichon Graphics on this page are free for Personal and NOT for profit use,
in support of Small Paws® Rescue.
These are all original graphics copyright 2007-2008 by Lemmondrops (Mark & Nancy Lemmon). All Rights Reserved.
The cost to you will be a link to the main Small Paws® Rescue page at
http://www.smallpawsrescue.org/ on EVERY page on which you use one of these graphics.
Thank you!! Mark & Nancy